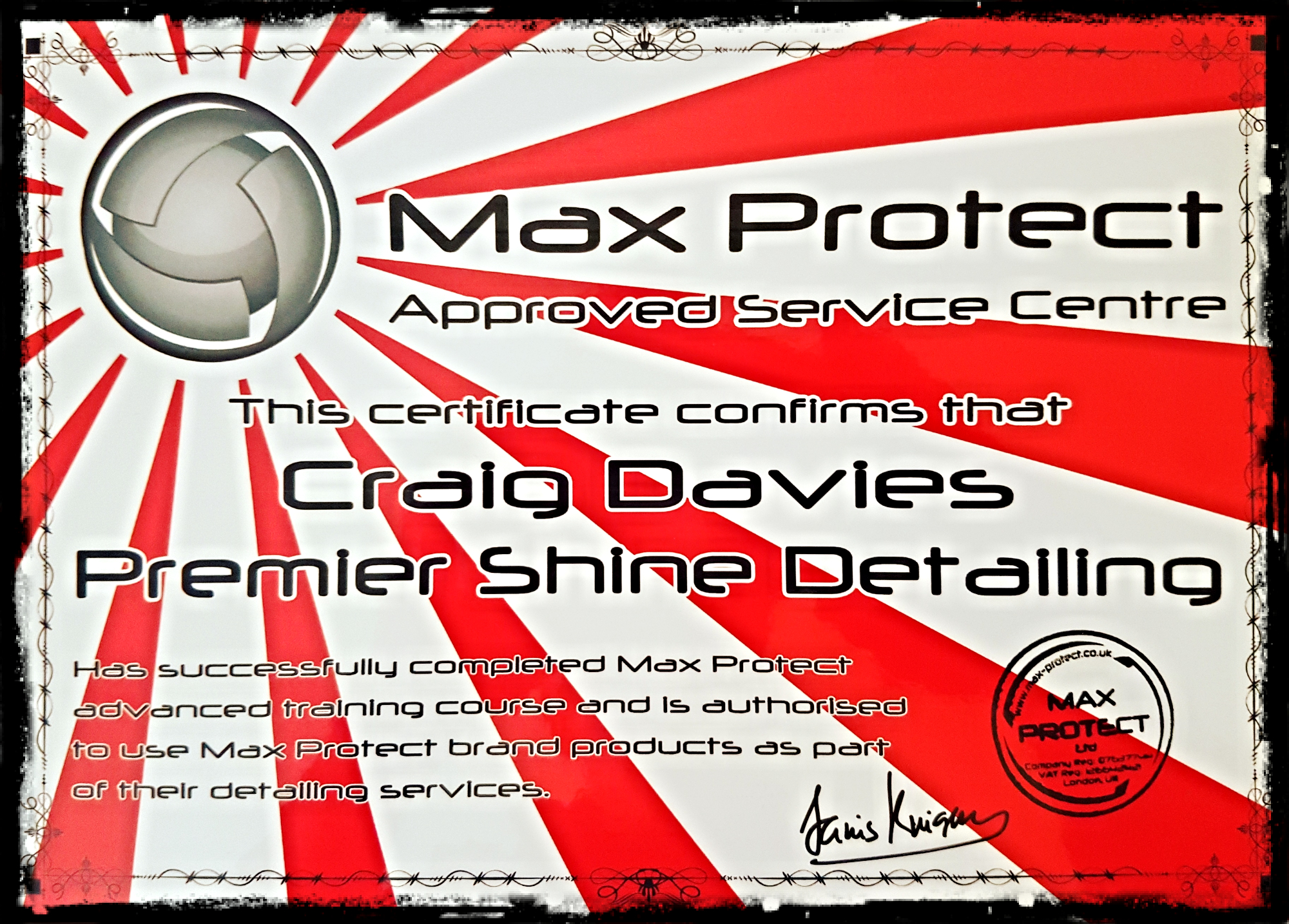 Premier Shine was established in 2012 and has been growing from strength to strength ever since. We are a mobile valeting and detailing company based in Haverfordwest Pembrokeshire that provides a wide range of valeting and detailing services from a basic safe wash to a full showroom detail.
We are accredited detailers for the world renowned Max Protect coatings, Coating Farm Ceramics and Dodo Juice.
We are also approved members of the professional valeters and detailers association insuring all of our work is always carried out to the highest of standards possible.
Premier Shine offers a personal customised detailing service to suit the customer such as scratch removal, paint corrections, swirl mark & hologram removal, restore faded paintwork, exterior & interior protective coatings, high grade Carnauba wax protection and also a de-odorising service to eliminate bad smells from your vehicle.
The main focus of our business is to provide the general public and local businesses alike with a professional mobile valeting & detailing service that not only offers great value for money but also complete peace of mind that our customers vehicles are in the best hands possible to receive the ultimate car care service.
Our service is intended to make your vehicle look as good as it possibly can at the best affordable price to suit the customer.
There are many hand car wash businesses popping up all across the country but DO NOT mistake these for professional valeters!! These business's usually run by people with no training or knowledge of car care, will in time totally destroy your vehicle as they only use the harshest acid & caustic based products on customers vehicles to save themselves time and money. These chemicals will literally strip every last bit of protection you may have had on your vehicles paintwork prior to them cleaning it. We get so many new customers coming to us every week asking for our help to put right what these cowboys have done wrong..
Here at Premier Shine we only use the best quality professional products using all the correct tools and techniques for the job ensuring your vehicle only gets the highest quality treatment it deserves. We take so much pride in our work that our reputation for quality is getting bigger and better by the day and our customer reviews say it all.
We have a vast growing customer base, situated in and around the SA postal area , including local businesses such as JJ McHugh wedding car hire, Andrew Price group, Whitland car services, Tenby auto center and Phoenix motors Haverfordwest to name a few. We also provide services to the members and visitors of Carmarthen & Haverfordwest golf course and also many private clients.


Premier Shine is managed and owned by Craig Davies, Haverfordwest, Pembrokeshire.